Country Approach: Nigeria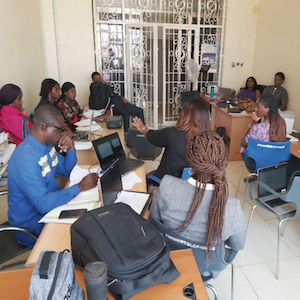 The University of Maryland, Baltimore (UMB) began operations in Nigeria in 2012 when it was awarded a five-year sub-grant to support monitoring and evaluation (M&E), as well as continuous quality improvement (CQI) at over 150 facilities. Through targeted approaches, UMB through Ciheb coordinated its M&E and CQI systems, successfully completed the grant, and evolved into one of the most sought-after organizations in the Nigeria.
Today, Ciheb Nigeria has nine projects being implemented across the country's 36 states, including in the nation's capital, Abuja. Through these projects, Ciheb supports other implementing partners above-site, supports health delivery facilities on site, and enhances effective implementation of initiatives by collaborating with the Federal Ministry of Health, PEPFAR donor agencies, and the Global Fund.
Ciheb Nigeria has provided CQI support for improved service delivery to over 200 stakeholders, facilities, and institutions through its weekly tele-ECHO virtual sessions and training of different cadres of healthcare workers in CQI processes.
Ciheb Nigeria is now active in supporting the Government of Nigeria through multiple projects:
NigeriaQual—a project designed to support the national HIV program in developing and standardizing quality improvement activities for HIV service delivery aligned with the HIVQUAL framework.
NigeriaQualTB—a project designed using the lessons learned from NigeriaQual that supports the national TB control program in CQI for TB care and treatment.
Nigeria Data Repository (NDR) and Nigeria Medical Record System—a project that successfully integrated both PEPFAR and Government of Nigeria National HIV/AIDS M&E activities in line with the "three ones" principles of M&E, thereby serving as a national data warehouse.
Human Resources for Health—a project designed to optimize HIV care providers' performance for service quality, and imrove outcomes by identifying human resources gaps; the project also institutes quality improvement systems in 41 selected facilities in seven states targeted at improving retention in care, viral load, and early infant diagnosis uptake at each selected facility.
CQI Approach
Ciheb Nigeria applies a multi-faceted approach in CQI implementation, namely:
Sharing best practices from case studies presented during the weekly tele-ECHO session.
Using the NDR, a national database hosted and managed by Ciheb Nigeria for the country's HIV data, to improve service delivery above the site level.
Assessing and reviewing data bi-monthly.
Building capacity.
Learning collaboratively.