Fellowship & Scholars
MKM Fellowship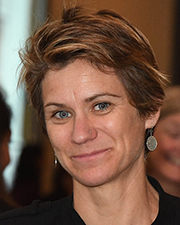 The Maeve Kennedy McKean Global Public Health Fellowship is named in honor of Ms. Maeve Kennedy McKean, the former Executive Director of the Global Health Initiative at Georgetown University, who tragically passed away in an accident in April 2020.
Ms. McKean devoted her life to improving the health and rights of peoples around the globe. Among her long list of accomplishments, Ms. McKean served as the first-ever Senior Advisor for Human Rights in the State Department's Global AIDS Program, appointed to the post during the Obama Administration. She also taught "Bioethics and Social Justice" at Georgetown Law and "Conversations in Global Health" at the School of Foreign Service.
This fellowship was created by the University of Maryland, Baltimore's School of Medicine and the Institute of Human Virology. Fellows will work with the Ciheb team on efforts to end the HIV epidemic in Africa.
---
INSIGHT Fogarty Scholars
The INSIGHT consortia is one of many consortia that comprise the Fogarty Launching Future Leaders in Global Health Research Training Program. The purpose of the Fogarty programs is to provide mentored global health research training opportunities in low- and middle-income countries (LMICs) for pre-and post-doctoral candidates from the U.S. and LMICs. The program is sponsored by the Fogarty International Center (FIC) and several collaborating Institutes and Centers at the National Institutes of Health (NIH).
This consortium brings together four top-ranked universities, the University of Alabama at Birmingham (UAB), Baylor College of Medicine (BCM), the University of Maryland Baltimore (UMB), and the University of Pittsburgh (UP) and their respective international research training sites in Africa, Asia, and the Americas. Trainee research projects are supported by experienced and dedicated mentors with expertise in clinical, public health, laboratory, and implementation research.