Leadership
Leadership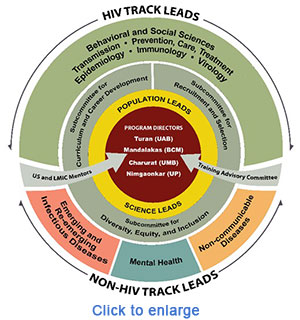 Our leadership team, composed of global health researchers who are nationally recognized for their extensive and multidisciplinary expertise, has well-defined positions that correspond to the unique needs and composition of the INSIGHT program and its consortium partner institutions.
INSIGHT strongly values the principle of de-colonization in global health education, and we place deep-rooted equitable partnerships at the core of our program.
---
Multiple Principal Investigators
Janet Turan, PhD
INSIGHT MPI and Program Director
Professor, Department of Health Care Organization and Policy,
School of Public Health, University of Alabama at Birmingham (UAB);
Director of the Sparkman Center for Global Health
Dr. Turan is social and behavioral scientist with extensive experience in public health research, health behavior, sexual and reproductive health, and qualitative and mixed methods research methodologies. Over the course of her career, she has investigated the barriers that people face in engagement in HIV and other reproductive health services in settings as diverse as Turkey, Italy, Kenya, Zambia, and the US. Her program of research focuses on understanding and addressing stigma and discrimination as they relate to a variety of health conditions/services, and she incorporates qualitative research methods in the context of rigorous mixed methods research designs in all of these projects.
Since 2006, she has conducted NIH-funded research in Kenya with the aim of reducing the adverse effects of HIV-related stigma on the health of pregnant women, male partners, and infants. Following her NIMH-funded K01 Award study, she was awarded an NIMH R34, an NIMH R01, and an NICHD R01 to develop and test interventions to reduce HIV-related stigma and improve women's ART adherence and outcomes in Kenya, as well as an NIMH R01 to study HIV-related stigma and intersectional stigmas related to race, gender, and poverty using mixed methods research in the Women's Interagency HIV Study cohort in the United States.
Since 2014, she has served as Director of the Behavioral and Community Sciences Core of the UAB Center for AIDS Research (CFAR). She has an extensive track-record as a mentor of pre-and post-doctoral trainees from both the US and LMICs, and currently serves as a mentor or advisor on 10 NIH-funded K Awards.
---
Anna Maria Mandalakas, MD, PhD
INSIGHT MPI and Program Director
Professor of Pediatrics
Director of the Global TB Program,
Baylor College of Medicine (BCM);
Adjunct Professor of Epidemiology,
University of Texas Health Science School of Public Health
Dr. Mandalakas's research focuses on the epidemiology, diagnosis, and pathophysiology of childhood TB and HIV. She is PI on several large multi-national studies focusing on HIV-associated TB including:
Quantifiable Stool-based TB PCR to Improve Diagnostics and Treatment Monitoring (R01AI137527-01A1)
Closing - TB GAPs - For people living with HIV: TB Guidance for Adaptable Patient-Centered Service (U01GH002278)
Fogarty HIV Research Training Program in Eswatini (D43TW011547)
Primary mentor for two NIH-sponsored career development awards:

Persistent DNA Methylation of the IFN-γ Signaling Pathway During Tuberculosis (K23AI141681A)
Developing Clinical Prediction Tools to Define Strategies for Differentiated Service Delivery in Children and Adolescents Living with HIV in Sub-Saharan Africa (K01TW011482-01A1).
She also serves as the Eswatini site PI for two multi-national EDCTP funded projects. Dr. Mandalakas has over two decades of experience investigating child TB and HIV in Sub-Saharan Africa and Southeast Asia and has a robust mentorship record evident by over two dozen senior author publications featuring junior first authors from over a dozen countries in the past six years.
---
Man Charurat, PhD
INSIGHT MPI and Program Director
Professor of Medicine and Epidemiology
Global Director of the Center for International Health, Education, and Biosecurity,
University of Maryland School of Medicine
Dr. Charurat is an infectious disease-trained PhD epidemiologist with 20 years of experience designing, implementing, and leading cohort and implementation science studies across eight countries in sub-Saharan Africa related to vulnerable and under-researched populations, including women, children, and key populations.
He is PI on two active and recently completed two NIH funded R01: Microbiome and Health Outcomes among HIV-exposed Uninfected Infants (R01DE025174); Network-Based Recruitment of MSM into HCT, Care, Treatment and Prevention Services at Trusted Community-based Venues (R01MH099001); Optimizing ARV-based Prevention for Marginalized MSM (R01AI120913); Adolescent to Adult Patient-centered Transition (R01HD089866), and Impact of Non-B HIV-1 Subtype on second-line Protease Inhibitor Regimens in Africa (INSPIRE, R01AI147331).
He is currently PI of the Fogarty HIV Research Training program in Nigeria (D43TW010051). He recently led population-based HIV impact assessment surveys in Nigeria, Botswana, and Zambia. He currently serves as primary mentor for one NIH-sponsored career development award: Role of anal microbiota, local cytokines, and HIV in the persistence of high-risk papillomavirus (K07CA225403).
---
Vishwajit Nimgaonkar, MD, PhD
INSIGHT MPI and Program Director
Professor of Psychiatry and Human Genetics,
University of Pittsburgh
Vice President for the Veterans Administration,
Pittsburgh Healthcare System
Dr. Nimgaonkar's research is focused on the causation and treatment of severe psychiatric illnesses, including schizophrenia and bipolar disorder. He oversees research and research training projects in the USA and India. He has been continuously funded since 2002 through D43 overseas training grants from the Fogarty International Center. He currently serves as the PD/PI for an Indio-US collaborative training program that implements a flexible, multi-site 'without walls' capacity building program for new psychiatric researchers in India who receive hands-on training in research; their mentors and administrative officials are simultaneously trained in grantsmanship and grant administration (D43TW009114, 2019-2024).
Dr. Nimgaonkar also directs two foundation-funded randomized controlled trials of repurposed drugs for patients with schizophrenia in the USA and India. At Pittsburgh, he also directs laboratory studies using human induced pluripotent stem cell (hiPSC) technologies to model infections with neurotropic viruses; these models are used for drug discovery. He has previously conducted gene mapping studies for schizophrenia.