Country Approach: Botswana
In 2015, the Botswana–University of Maryland School of Medicine Health Initiative (Bummhi) launched the five-year Botswana Partnership for Advanced Clinical Education (BPACE) project. BPACE, which is funded by the US Center for Disease Control and Prevention under PEPFAR, focused on building the capacity of the Government of Botswana to train and mentor healthcare workers to reduce HIV-related morbidity and mortality, strengthen existing structures and systems to better address health workforce in-service training and clinical mentorship needs, and improve quality of HIV/AIDS service delivery. The project was implemented in 52 health facilities across 11 districts.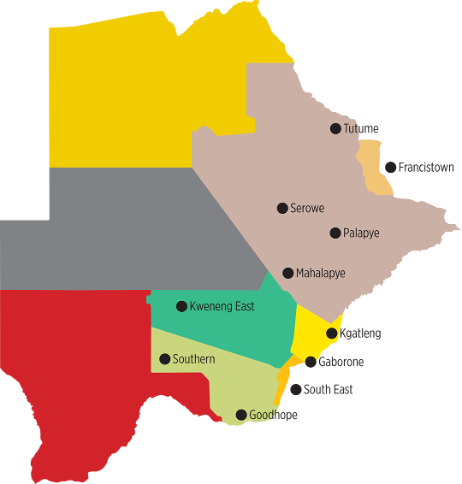 BPACE emphasized the role of continuous quality improvement (CQI) and the quality of data in guiding decision making at the facility level. The project thus supported the Botswana Ministry of Health and Wellness in achieving the following outcomes:
Training
Training over 700 healthcare providers on CQI from over 50 facilities throughout Botswana.
Convening and facilitating quarterly district CQI learning collaborative meetings for cross-learning of best practices.
Development of a CQI curriculum for long-distance learning.
Reinforcing Best Practices and Feedback
Supporting facilities and districts in presenting their best practices at different forums that include annual antiretroviral site manager meetings as well as at the Botswana HIV clinicians conference.
Formation and mentoring of CQI teams for each facility and district to oversee CQI implementation at facility and district levels.
Convening and facilitating a national learning collaborative meeting where all supported facilities and districts shared their best practices specifically about the linkage of HIV-positive clients to treatment and viral load access by patients.
Implementation and documentation of some small tests of change (STOC) for scale up as good practice initiatives for service delivery improvement.
Assessment and monitoring of improvements in service delivery through quarterly site improvements and monitoring (SIMS) assessments.
Development and monitoring the implementation of standard operating procedures for improving quality of care.
Utilization of "talking walls," whereby facilities post data on walls to track progress, increase accountability, and facilitate discussion to identify gaps and implement corrective measures.
Long-Term Institutionalization
Finalization of a quality improvement framework.
Development of standard CQI tools and templates.
Collaboration with the Ministry of Health and Wellness to adapt the CQI digital app to support real-time documentation and monitoring of CQI projects. The adaptation process for Botswana will allow the CQI app to be directly linked to both District Health Information Software 2 (DHIS2) data and facility assessment results.