UNAIDS Aims to End Inequalities to End the AIDS Epidemic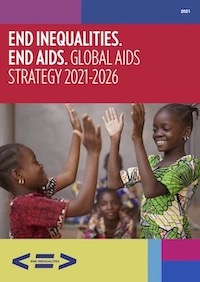 UNAIDS has released a bold new five-year strategic plan that aims to end the AIDS epidemic by 2030.
The new plan, entitled "End Inequalities. End AIDS. Global AIDS Strategy 2021-2026," includes a focus on creating a fairer distribution of resources to further accelerate progress toward ending the AIDS epidemic. Although much progress has been made in reversing the spread of AIDS and ending the epidemic, inequalities persist and have been magnified, in many cases, due to the COVID-19 pandemic. These inequalities stand in the way of traveling the last mile to ending the epidemic.
In 2013, UNAIDS set benchmarks that it hoped to reach by 2020 (the 90-90-90 targets) and 2030 (the 95-95-95 targets). The 90-90-90 targets specified that 90% of people living with HIV would know their HIV status, 90% of people who know their status would be on treatment, and 90% of people on treatment would have suppressed viral loads. These percentages would be increased to 95% for the 2030 targets.
The new Global AIDS Strategy (2021-2026) provides a framework for transformative action to reduce existing inequalities, such as disparities between key populations in access to treatment and care, by 2025. The strategy is built on the feedback of more than 10,000 stakeholders from 160 participating countries and rededicates UNAIDS' focus on client care.
"Meeting the needs of marginalized and stigmatized populations is a core value of our center, and we are pleased that UNAIDS is rallying the global community around this new strategy to address barriers to care. We must ensure that the systems intended to provide care and treatment to people are not the very same systems that discourage them from seeking health services because they fear how they will be treated or if they will be treated at all."

—Dr. Kristen Stafford, Ciheb Deputy Director
Despite the many successes in HIV treatment and care, access to such services has not been equal across all peoples and populations. To improve access for all and to address these inequalities, the new UNAIDS strategy focuses on serving marginalized people and communities.
People-Centered Approach
The heart of the strategy embraces a people-centered health system that draws on community knowledge and perspectives. The strategy calls for a full range of health services to be integrated in primary healthcare settings, with special consideration to populations who experience stigma and discrimination.
UNAIDS wrote of this issue in the "End Inequalities. End AIDS. Global AIDS Strategy 2021-2026" strategic plan: "The resilience and experience of the HIV response in addressing inequalities that disproportionately affect the key populations and priority populations is critical to the once-in-a-generation opportunity to 'build back better' from COVID-19."
UNAIDS identifies inequalities in this context as injustice, unfairness, disparities, or gaps in HIV vulnerability, service uptake, and outcomes experiences among the many populations living with or affected by HIV. However, the Global AIDS Strategy includes three strategic priorities to address these inequalities:
Maximize equitable and equal access to HIV services and solutions
Break down barriers to achieving HIV outcomes
Fully resource and sustain efficient HIV responses and integrate them into systems for health, social protection, humanitarian settings and pandemic responses

Credit: UNAIDS Global AIDS Strategy
Eastern and Southern Africa
UNAIDS notes that this region holds the highest HIV burden in the world with approximately 55% of all people living with HIV. Inequalities are also apparent, as women make up three in five new HIV infections among adults in this region in 2019, and adolescent girls and young women (aged 15-24 years) are up to five times more likely to acquire HIV than male peers.
At the same time, great gains are also being made, in part from the work that Ciheb is doing in Kenya, Rwanda, Tanzania, Zambia, Malawi, Mozambique, and Botswana.
Among the priority action items that UNAIDS identifies for this region are to:
Significantly increase high-impact, evidence-based, people-centered combinations of HIV prevention for key population and other priority populations, including adolescent girls, young women, and young men.
Preserve the gains in testing, treatment, and care in the current COVID-19 context and scale-up services, especially for adolescents, youth, women, and girls.
Ensure sustainability of the HIV response with in-built resilience.
Address social and structural barriers.
Empower communities and place them at the center.
Western and Central Africa
In this region, UNAIDS said progress is not advancing fast enough. The COVID-19 pandemic has strained already fragile financial and health systems and has led to greater inequalities than before. Ciheb operates in Nigeria in this region.
Among the priority action items that UNAIDS identifies for this region are:
Reposition and empower communities as a central pillar of the HIV multisectoral response.
Strengthen people-centered health systems to deliver results for the most vulnerable.
Close gaps in access to and uptake of services to prevent vertical transmission and pediatric HIV treatment.
Promote an accountable, inclusive, and sustainable HIV response.
Revitalize multidimensional and integrated approaches.
To read the full report, click here.