New UNICEF Partnership in Rwanda to Address HIV in Young Women and Children
UNICEF and Ciheb Rwanda are partnering to train and mentor healthcare providers in Rwanda and build local capacity in the prevention of mother-to-child transmission (PMTCT) of HIV. The 12-month "Partnership to Implement Quality Improvement Strategy in PMTCT" project will integrate continuous quality improvement (CQI) strategies at 18 healthcare facilities in Rwanda's capital, the City of Kigali. The project is being implemented in cooperation with the Rwanda Biomedical Centre HIV Prevention Unit, the Rwanda Ministry of Health, and the City of Kigali Public Health and Environment Department.
The project aims to lower maternal-to-child transmission of HIV; eliminate new pediatric HIV infections; and improve maternal, newborn, and child health and survival in the context of HIV. The CQI interventions will focus on pregnant and breastfeeding mothers, including adolescent and young and single mothers and their babies and partners and children aged 2-18 who were born to HIV positive women enrolled in an HIV treatment program.
Ciheb Rwanda will scale-up the CQI strategy to improve index testing, partner notification services, and family testing within antenatal care. Ciheb Rwanda will also utilize a web-based CQI app for tracking CQI progress and gaps to ensure course correction that had been developed by its sister team in Tanzania. The use of the CQI app is in line with UNICEF's data-driven programming.
The initiative will support the Rwanda Government's National HIV Guidelines, whose goals include lowering maternal to child transmission of HIV and ending the AIDS epidemic by 2030. The project is similarly in line with the global agenda to eliminate new pediatric HIV infections and improve maternal, newborn, and child health and survival in the context of HIV.
"UNICEF is extremely excited about this partnership. We hope that together we can achieve meaningful results for the women and children of Rwanda."

—Dr. Kondwani Ng'oma, HIV & AIDS Manager, UNICEF Rwanda
Young Women and Children at Risk
The prevalence of HIV among young women (1.8%) in Rwanda aged 20-24 years has remained three times higher than men in the same age group (0.6%), according to the 2018-2019 Rwanda Population-based HIV Impact Assessment. In Kigali, which is the epicenter of the HIV epidemic in Rwanda, HIV prevalence among female sex workers is 55%, the highest in the country as reported in the City of Kigali HIV Strategic Plan 2018-2023.
Antenatal care is a key entry point for reaching women with PMTCT services, given that over 90% of women attend antenatal clinics at least once. (Rwanda's PMTCT program is implementing Option B+ using a dolutegravir-based regimen to all new HIV positive pregnant women.)
Regarding access to HIV testing and treatment, children below 15 years of age have lower coverage (75%) compared to adults (89%). Anecdotal reports indicate that HIV positive parents do not take all their children for HIV testing. It is also known that a few children infected through maternal to child transmission can survive into adolescence.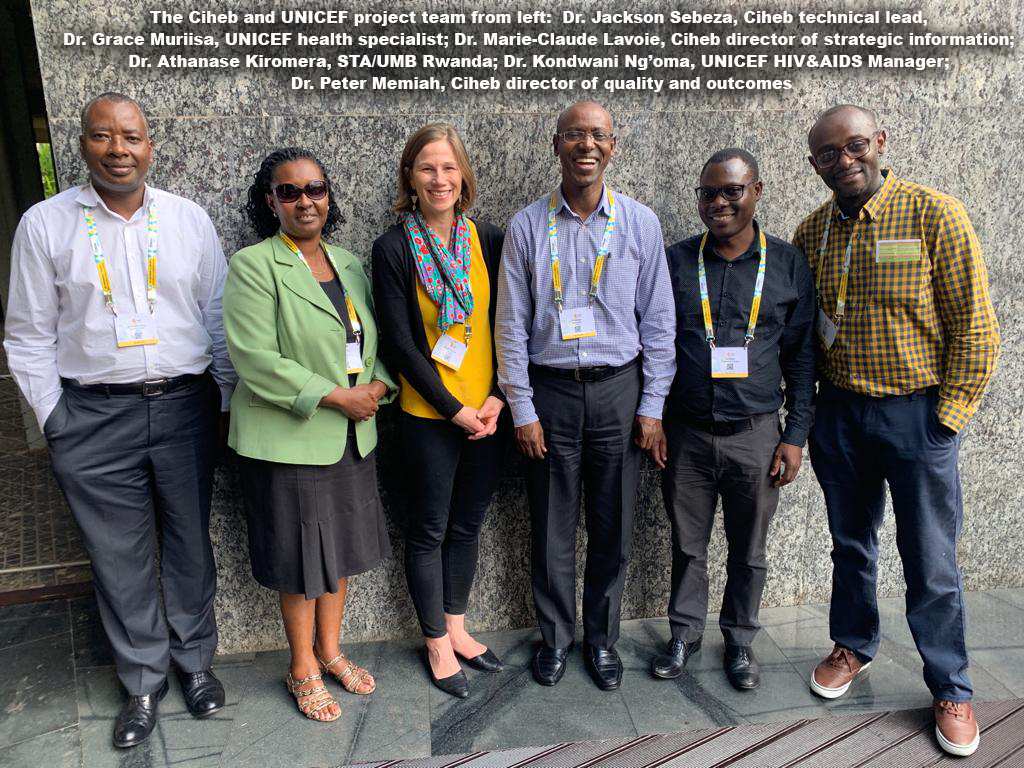 Promoting Local Ownership and Sustainability
Involvement of district hospitals and health centers leaders throughout planning and implementation of the project will facilitate sustainability and ownership. Champions from each of the implementing facilities will be identified and supported in continuing to lead and coordinate activities beyond the project period.